About Sway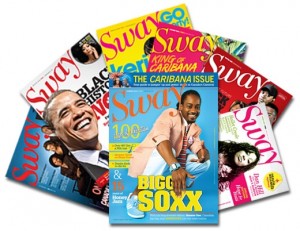 Why Sway
Sway is the premier lifestyle magazine for African – and Caribbean Canadians. Its mission is to entertain, empower and educate, with a voice that reflects the successes, accomplishments, and pride of Canada's Black communities.
Sway, published quarterly, was launched in the winter of 2005 with an editorial lineup that is thought provoking, uplifting, inspirational, and motivational. Sway has a circulation of 50,000 with an exclusive distribution through the Gateway Newstand locations in the TTC, 2500 Dreamboxes and strategic retail outlets.
Swaymag.ca is updated daily and is Canada's premier online destination for African and Caribbean Canadians.
Sway is endorsed by the Black Business and Professional Association.
Media Kits:
Online Media Kit
Print Media Kit
Contacts:
Publisher/Editorial Director
Alan A. Vernon
Online Director
Leslie Andrachuk
Print advertising sales
Alan A. Vernon
Online Advertising Sales
Leslie Andrachuk
Editor
Jon Sarpong
Contributors:
Saada Branker
Stephanie Pollard
Alexis Finch
Tricia Campbell Hall
Elesia Stewart
Simona Siad
Online Editor

Online Contributors
Adebe DeRango-Adem
Abena A. Green
Anya Wassenberg
Brandon Hay
Cerise Fairfax
Chellie Mejia
Erica Phillips
Fabien Alexis
Geena Lee
Junior Burchall
Karen Welcome
Nicky Phillips
Rochelle Hanson
Saada Branker
Samuel Getachew
Shanichia Henry
Stephanie Lowe Williams
True Daley
Tendisai Cromwell
Krysta Celestine
Employment Opportunities
Freelance Contributors
Join Canada's premier online destination for African and Caribbean Canadians.
Swaymag.ca is looking for new voices in the Black community.
If you're a self-proclaimed foodie, sports fanatic, beauty expert, political buff, etc. we want you on our team.
Applicants should have:
Strong writing and grammatical skills
Research and fact-checking skills
Access to a computer and reliable Internet connection
Self-motivation
Online experience is an asset though not required
Please submit a cover letter and/or resume and minimum 2-3 relevant writing samples to: [email protected]